As a high end brand of functional hardware in China, Higold Group has occupied a unicorn position in domestic sales and market share for years. After 17 years of cultivation, Higold is well-known in home furnishing industry for its excellent quality and innovative designs. To comply with market demand, Higold and Grass have launched a strategic cooperation in China. Higold will use its strength to transfer the personalized design of Grass basic hardware products and the product concept of reducing complexity to simplicity to the Chinese families. Higold and Grass will work together to improve the quality of life.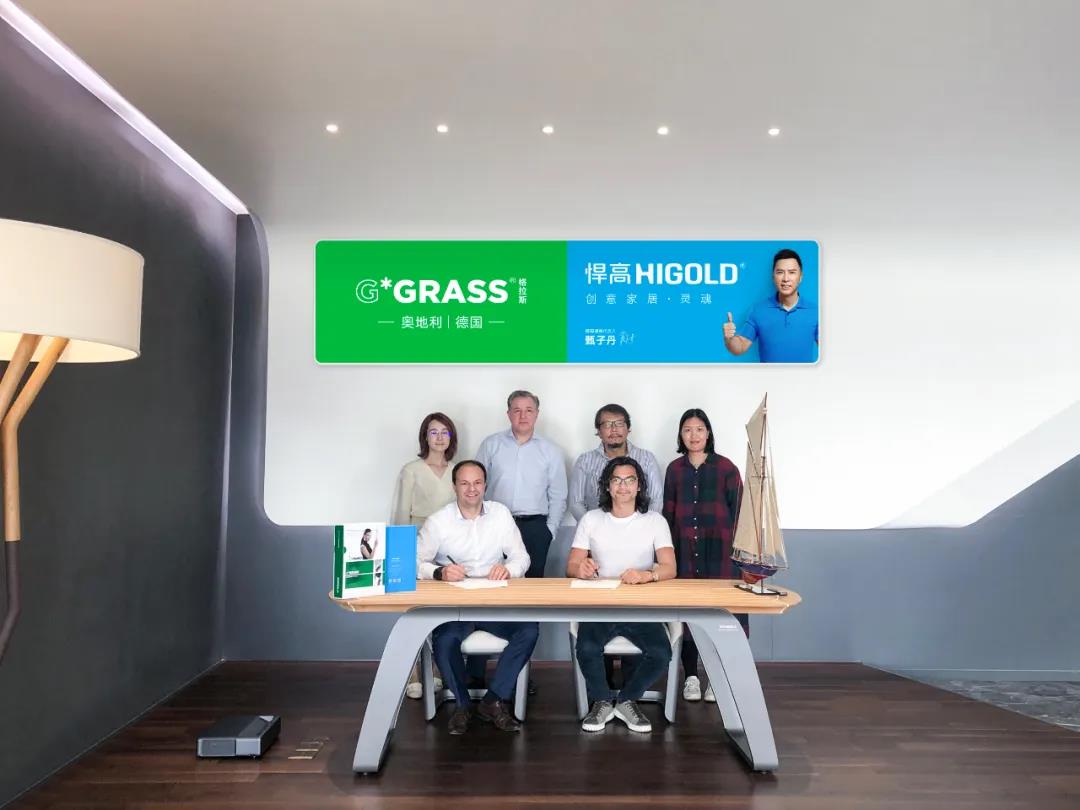 △Signing scene of President of Higold Group Alwin Ou & CEO of Grass Albert Trebo
Grass provides a high end selection to make it unique in all furnishing field for manufacturers and designers. Throughout the hardware industry in the world, Grass enjoys the fame for its basic hardware. It rooted in Chinese market since 1996 and succeed to establish its market place as well-known world class imported hardware brand from Austria and Germany. The drawer system, slides, hinges and lifting system of Grass bear the highest quality and Grass is worthy of the first choice of basic hardware brand for the manufacturers and designers that focus on high quality and differentiation.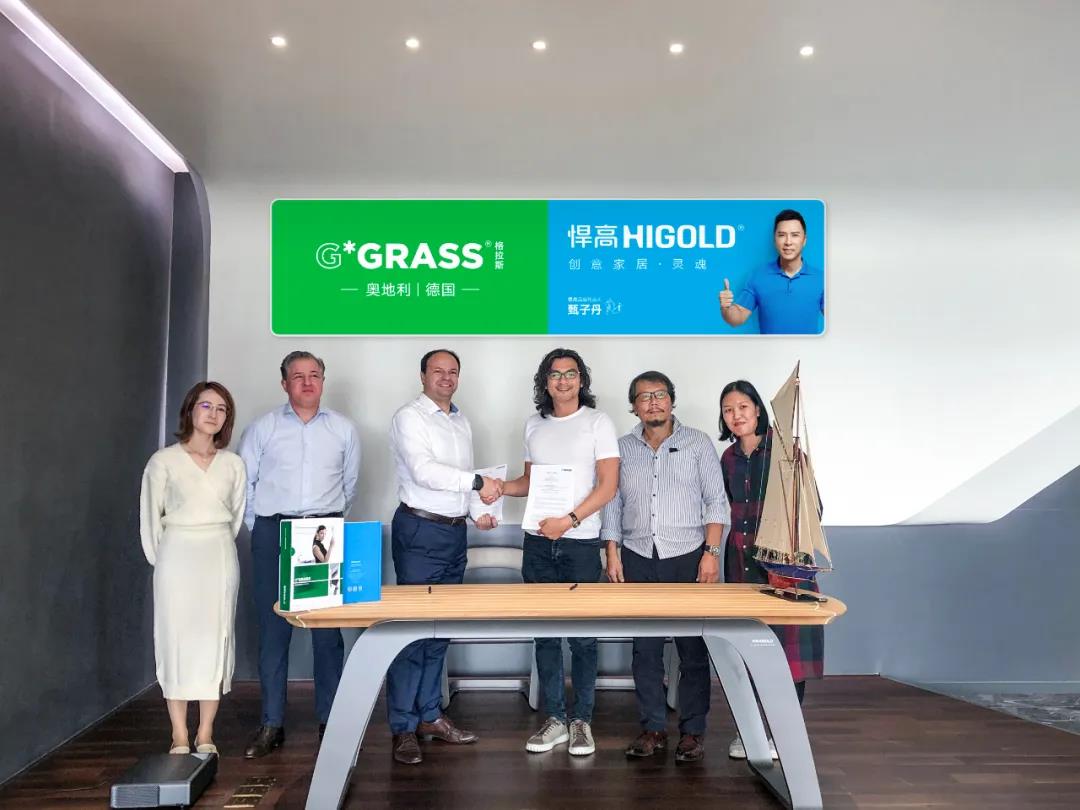 △Signing scene of President of Higold Group Alwin Ou & CEO of Grass Albert Trebo
Grass selected Higold Group to be her partner in Chinese market, which aims to push the development of high end brand. And as the Chinese top hardware enterprise, Higold works her best to serve the demands of Grass's customers and assists Grass basic hardware running into Chinese market roundly. The win-win cooperation of Grass & Higold will definitely bring a new climax in Chinese high end hardware market.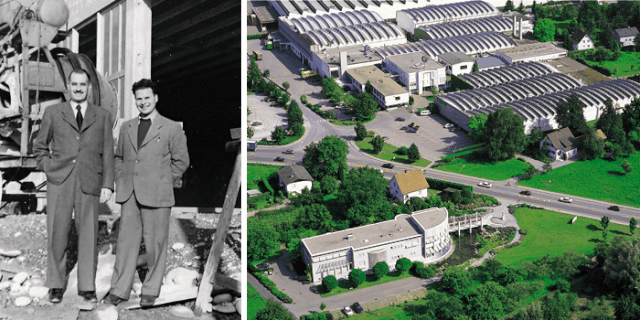 △Grass headquarters in Austria
Higold and Grass decided to start their comprehensive cooperation project since June 1st, 2020. Higold will take over Grass's business in China by joint forces to develop together. Higold will dedicate herself to provide greater support and better service to customers in the Chinese market of Grass. Both of Higold and Grass are looking forward to bringing a qualitative leap in Chinese market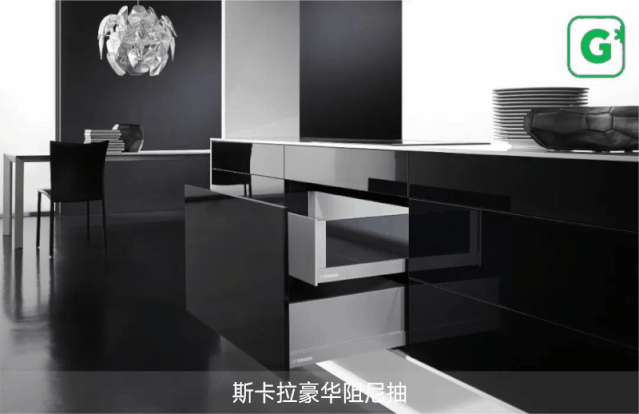 △Grass product image
The fastidious attitude to quality of Higold has deeply planted in Chinese consumers for 17 years. After the cooperation activated, Higold will rapidly start the market layout and recruit distributors. Under our influence to the Chinese hardware market, Higold will open up the blue ocean of development in Chinese district for Grass.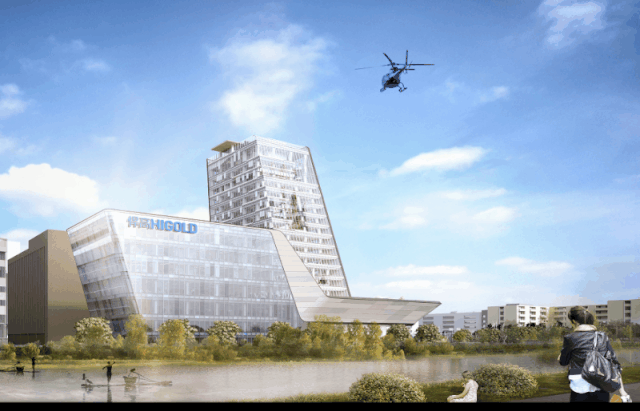 △Higold Group Galaxy headquarters
Higold adheres the craftsman spirit of original production, high quality and high standard in R&D and manufacturing process. Higold owns more than 300 pieces of innovative patents and won the Red Dot Award, whose products are selling to more than 86 countries and districts, as well as the sales network that covers full China district. Higold owns more than 180 general distributers in China and more than 80, 000 retailer shops for cabinet and wardrobe, which has been the strategic cooperation brand for domestic top real estate distributors and home furnishing brands.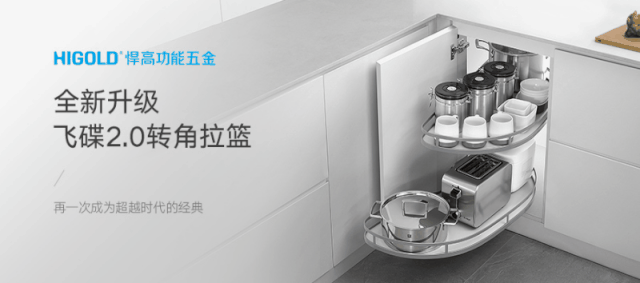 △Higold product image
Higold and Grass have achieved strategic partnership, taking the advantage of win-win cooperation, establishing a new platform and multi-channels trading mechanism, and will continuously deepen the strategic cooperation, improve resource integration and form a mutual round hardware industry layout. Higold will persist in professional service to Grass's Chinese customers to achieve the win-win prospects.
Higold and Grass have officially launched distributor recruitment in Chinese blank market (except Grass's existing agent area: Tianjin, Shenyang, Changchun, Heilongjiang, Jinan, Qingdao, Hangzhou, Ningbo, Wenzhou, Taizhou, Huzhou, Quanzhou, Xiamen, Changsha, Chengdu, Chongqing, Kunming and Dongguan). The recruitment in other prefecture-level cities (including provincial capitals, municipalities, vice provincial capitals) are also fully opened to everyone interested. You are most welcome to explore the Chinese blue ocean basic hardware market together with Higold & Grass.